Over the past fifteen or so years I have avidly followed politics and during that time I have become a fan of Rasmussen Reports. In my opinion, they are just better than anyone else at accurately capturing and conveying the mood in America.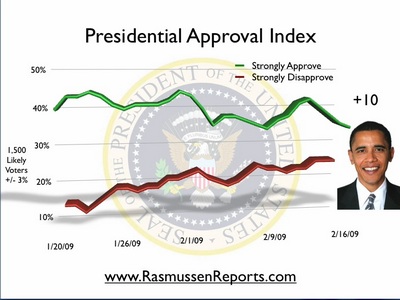 Today
Rasmussen Reports shares with us a new trend for President Obama – a
downward trend
. Every elected official faces ups and downs over time and Obama's approval numbers are still extremely high so he isn't likely to turn around and head in the opposite direction but… I predict that this trend will continue downward after he signs the bill into law.
Coincidentally another poll conducted by Rasmussen measuring
consumer confidence
taken after H.R. 1 passed indicates that consumers did not respond well to the passage of the bill. Now… I can't wait to see an update to
this poll
. It appears as though some Americans are waking up from the Obama dream.